DVD Shrink is a versatile freeware tool for fitting a DVD-Video disc on a single DVDR disc.
DVD Shrink is capable of both re-authoring and re-encoding the movie. It features an intuitive user interface which makes it easy to choose what to keep, and what to lose.
DVD Shrinks allow the user to select compression level for each video track separately to obtain the desired disc size (which is usually below 4.38GB). The software is capable of producing either an ISO image of the ripped DVD, or a VIDEO_TS folder for further processing, viewing or burning.
HOW TO
You will need to have enough free space for this process. The DVD Shrink output will be around 4.36GB in size and if you plan to rip the DVD contents to your hard drive to speed up the process, it could be as much as 8.5GB extra space. To burn, you obviously need a DVD burner and a blank DVD+/-R(W) disc (DVD-RAM will NOT do!). DVD Shrink is very fast at compressing, but this process depending on the speed of your computer might take a little while to complete.
What does DVD Shrink do?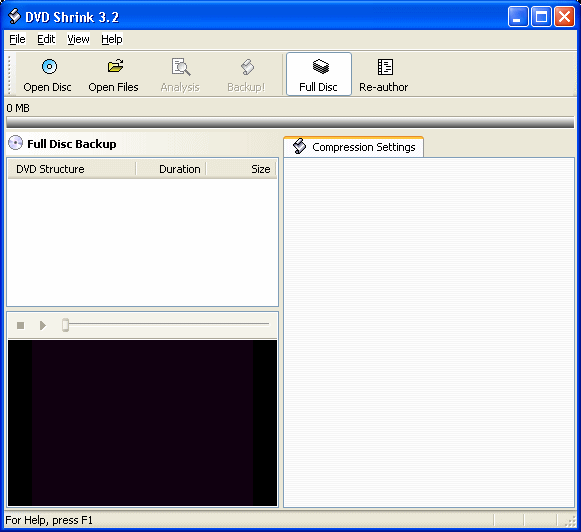 If you are looking to make a backup copy of a purchased DVD disc, then DVD Shrink is a great help. It is the easiest solution for taking a DVD-9 (a dual-layer DVD, most retail DVDs are dual layer) and converting it to DVD-5 (4.3GB or less, DVD-R / DVD+R are examples of DVD-5 in terms of capacity limits). Unless you have dual layer blank DVDs, which are noticeably more expensive than regular blanks, you will need to make sure the resulting copy is 4.36GB or less in size.
The program is very flexible, and it tries to balance quality and content as best as possible. You can improve the quality of the output copy by cutting out areas of the DVD that you do not need, such as extras, directors commentary, foreign audio, subtitles etc. but you can also opt to keep all of these things at the expense of quality. If all you care about is the DVD movie and not the menu or anything else, you will get the best copy (Read - How to copy DVDs (Movie Only) with DVD Shrink), but if there are other things on the disc you wish to keep, then stick to this guide.
For more informations, tips or trick to use it :
Join the group
Please leave a comment to confirm...
Download: DVD Shrink v3.2.0.15 Free Download DVD Ripper